Mat first caught the musical 'bug' at an early age, but after some initial classical guitar lessons, it was his elder brother's record collection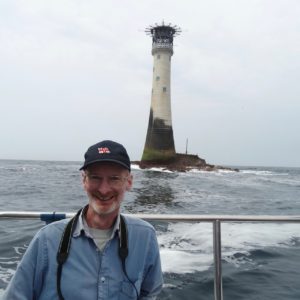 during the late '70s with albums from groups such as Supertramp, Pink Floyd, The Alan Parsons Project, Genesis and Dire Straits which got Mat really hooked on playing the guitar.
After college Mat gravitated into Theatre, working on the technical side, first in Chichester, then London, progressing from stage crew to lighting and finally to sound, where the preparation of 'show tapes' of sound effects and the live sound mixing for musical productions were to provide the grounding for his future studio work.
Following a bilingual upbringing and many trips to France, it was inevitable that Mat would be tempted to swap the 'bright lights' of London for the 'City of Light', Paris, where he lived for a number of years. Although involved in a rock band whilst there, it was during this time that he composed much of the music that was to become his first album, "The Lighthouse Keeper".
Having been brought up near the sea on the south coast of England, Mat has long been fascinated by lighthouses, since the earliest memories of hearing the Needles lighthouse foghorn!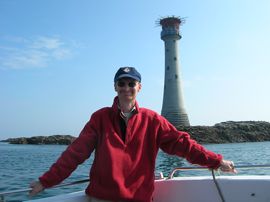 "When I started to work on my atmospheric guitar tracks, it soon became apparent to me how much I was drawing inspiration from my time spent on the coast, close to my local lighthouses, the Needles and Hurst Point.
The completion of these tracks coincided with the final phase of automation of Great Britain's lighthouses which prompted me to dedicate my first album to the memory of the lighthouse keepers. It also led to the idea of featuring a different lighthouse with each subsequent album", explains Mat.
BEACHCOMBER MUSIC is an independent record label (member of Phonographic Performance Ltd) launched in 1998, on the south coast of England, to promote the instrumental music of composer/guitarist Mat Dickson.
PARTNERS:
CD Baby (USA) www.cdbaby.com
Muséa (France) www.musearecords.com
THE CATALOGUE:
THE LIGHTHOUSE KEEPER (1998) re-released 2004
THE KEEPER'S LOG (2003)
LAND'S END (2007)
LICENSING: The Beachcomber Music catalogue is available for licensing. For all enquiries please contact info@beachcombermusic.com.
THE CONCEPT: Inspired by lighthouses and the sea, Mat Dickson's instrumental music and its lighthouse theme are being developed into a collection of albums featuring different lighthouses.
THE MUSIC: Instrumental ambient progressive rock with a blend of Celtic folk. Electric and acoustic guitars interweave with other instruments, and at times the sound of the ocean, to create an atmospheric soundscape reflecting the ever-changing moods of the sea and the sky.